There are many instances when a vertical root fracture dictates a hopeless prognosis resulting in extraction, but this need not always be the case.  Though less popular and less aggressively pursued in the age of implants, root amputations can still serve as an effective treatment option.  This option can be used to 'transition' a patient into an implant or conventional bridge, but in select cases, it can also be a good long term solution.
Take for example the case of K.S.  She is a 40-50 year old female with a class 1 occlusion and moderate levels of occlusal wear consistent with bruxism.  Her oral hygiene appeared good, and she had recently been fitted with a night occlusal guard which she was compliant in wearing.  Her chief complaint was related to interproximal 'soreness,' an 'unusual bite feeling,' and an occasional 'bump on her gums.'  Intraoral examination revealed a small draining sinus tract on the gingival margin of the mesial aspect of #16.  Generalized probing depths were 3-4mm though there was an isolated pocket on the mesial of #16 of 7mm.  She was mildly percussion and bite positive.
Radiographically there was some coronal widening on the MB root with an apical lesion.  The crown margins appeared intact, and there was an amalgam core.  The existing obturation appeared normal.  By CBCT examination it did appear that all canals had in fact been located though the coronal widening was indeed limited to the one area where the 7mm probing had been detected.  Of note, the rest of the lamina dura appeared intact indicating that the diagnosis of vertical root fracture was likely limited to the mesial-buccal root rather than a mesial-distal furcation fracture.  The widening was also limited to the coronal aspect maintaining maximal bone especially the buccal plate, the preservation of which is paramount in minimizing a socket formation.
The prognosis for the root was presented to the patient as hopeless and the options of 1) extraction with replacement by an implant supported crown, or 2) a conventional bridge were presented or 3) surgical extraction of the fractured segment.  Since K.S had other dental treatment in progress related to quadrant 2, she expressed a desire to preserve #16 if possible and stated that a 2-5 year prognosis was acceptable.
Under local anesthetic a triangular sulcular flap was raised, the root amputated from the tooth taking care to preserve coronal bone.  An apical crypt was made and the root elevated coronally and sectioned so as to remove the root in pieces through the coronal opening so that the buccal plate could also be preserved.
At 1 year recall, the tooth was functional and symptom-free.  K.S. as able to keep the area clean and only mild gingivitis was present.  The bone fill into the root socket was excellent preserving the site for a future implant or cleansable conventional bridge.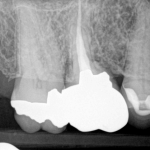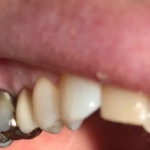 While likely not a routine procedure, under the appropriate conditions and case selection, root amputation can serve as an alternate treatment option. Periodontal condition, occlusal load,presence of a buccal plate,volume of remaining bone around the existing root, surgical considerations, patient's oral hygiene and expected compliance, and mitigating factors against alternative treatment options should be considered when contemplating a root amputation.  When added to one's arsenal of treatment options, root amputations can potentially be a great service to your patients and assist in their comprehensive treatment plan.
ABOUT Dr. JASON CONN, DMD, CAGS, FRCD(C) – LANGLEY ENDODONTICS
Dr. Conn was born and raised in Langley. He completed a Bachelors in Chemistry at Simon Fraser University before receiving his DMD and Certificate of Advanced Graduate Study in Endodontics at Boston University where he wrote a thesis in clinical decision making and another in odontogenic stem cell differentiation.
Dr. Conn has maintained an active practice alongside Dr. Bittner since 2012 while teaching as a part-time clinical assistant professor at the University of British Columbia.
In his free time, Dr. Conn is a Cub Scout leader, long distance runner, back-country hiker, snowboarder and yogi-in-training.